New Sensory Performance Station and Training Eyewear
This new sensory training technology is designed to train the connections between an individual's eyes, brain, and body. Using liquid crystal technology, the lenses flicker between clear and opaque, removing visual information to force the individual to process more efficiently. This new technology is called the Senaptec Strobe and can be integrated into most existing training drills and exercises.

Do you want you or your child to perform better? Accent Eye Care and Sports Vision Therapy will be able to provide data analytics while including comparative databases from youth to professional sports for a wide range of sports and positions. Custom comparisons can be easily made with the use of the Senaptec Sensory Station. If there is a new sport or position to our database, algorithms will combine other like sports and positions to provide you with comparable analysis.
The Performance Reports presented in a radar chart format will provide a single glance look at your overall performance. The chart provides a percentile ranking, where you can see your strengths and areas of opportunity to improve. This report also provides the improvement plan to get your path to improvement started right away.
New Virtual Reality Vision Therapy
Vivid Vision is the only virtual reality vision therapy solution for amblyopia and strabismus. Accent Eye Care and Sports Vision Therapy is the only Office in Northern Arizona to have this new technology.
How it works
An Oculus headset is worn which works in conjunction with a camera that tracks head movements with high accuracy.
• All while a desktop computer displays live images for controlling and viewing the head movements.
• A hand gesture controller tracks natural hand movement for hand-eye coordination tasks.
• A game controller like one used with an Xbox can be used to measure eye alignment (horizontally and vertically) and to place images where the eye normally rests, to train alignment, and in many cases, may cause one to see in 3D for the first time.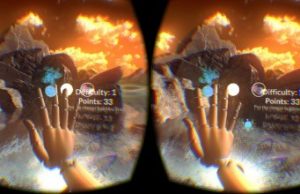 We use Cutting edge amblyopia software.
• Interactive, immersive, 3D games designed for people with amblyopia and strabismus
• A suite of state of the art vision assessments to accurately measure changes in vision.
• Comprehensive cloud data service which allows us to manage and view your progress from any browser.
Visagraph/ReadAlyzer
The Visagraph or ReadAlyzer is a type of vision technology that analyzes the mechanics of eye movements used during reading. When we read, our eyes don't move smoothly across the line. Instead, our eyes make a series of jumps and pauses as we read. The small jumps between words or groups of words are called saccades. The brief pause we make while looking at the words is called a fixation. If there is not continuous, fluid, simultaneous integration between these two systems (or too much time on a fixation), reading will be jerky, loss of place will be common, and comprehension will be poor.
Dr. Gong will analyze and discuss with you the eye movement pattern to determine the current reading skills and comprehension compared to the norms and what can be done to improve these skills.
Hand/Eye/Auditory Technology
Effective vision therapy is not an eye exercise or an eye muscle strengthening procedure. Rather, vision therapy is a therapeutic process that develops the neuromuscular control of the visual brain through a process that is evidenced-based on neuroscience. The research shows that patients who engage in office-based vision therapy will develop lasting improvement in their visual function.
Accent Eye Care utilizes new eye technology that is designed to improve visual abilities for a wide range of patients with learning related visual problems, sports vision enhancement, amblyopia, and traumatic brain injuries, without resorting to unnecessary eye surgery.
Liquid Crystal Automated Vision Therapy System
The Liquid Crystal Automated Vision Therapy System is a computerized interactive tool that our staff uses to improve amblyopia, eye tracking and fixating skills, heightening visual memory, and treating some strabismus cases.
Using the latest Liquid Crystal glasses technology, 100+ targets of varying size, detail and retinal disparity are presented to treat our patients with the most difficult binocular disorders. This new eye technology also eliminates the need for eye surgery in most instances.
Synoptophore/Amblyoscope
Our office implements this comprehensive vision technology in reflecting and refracting stereoscopes, such as the synoptophore, for the diagnosis and treatment of binocular single vision (imbalanced eye muscles) and amblyopia.
Many other vision therapy alternatives…
The goal of Accent Eye Care is to provide our patients with the best eye care tech possible. We want your vision as perfect as possible and we will strive to obtain those ends. Besides using current technology to improve your eye sight, we have created a blend of various proven techniques and exercises designed to keep you or your child motivated while improving vision. Eye care tech and therapeutic activities not only help stimulate and improve ocular motor skills, but they are also designed to be fun for our patients.
Vision therapy/training is effective for….
Treating Amblyopia
Breaking Suppression
Improving Ocular Motor Skills
Improving Visual Memory
Improving Accommodative Facility
Improving some Strabismus