Be aware of the persistent symptoms of concussion after a head injury: Click here.
We are so proud of our professional basketball player who has excelled, in a very short period of time, in every area of Sports Vision Therapy in comparison to the norms for other elite guards! Even after a concussion!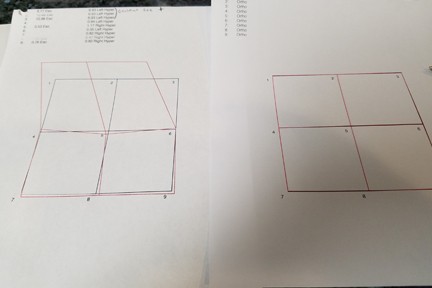 We are thrilled for Robert's Vision Therapy graduation today! Robert did not let his stroke get the best of him…he is now able to speak and his vocabulary is increasing weekly! He moves around independently, has 20/20 now with both eyes, tracks significantly better, and has great eye alignment!
Robert shares," I was referred to Dr. Gong by my rehab doctor and speech pathologist at Health South for Vision Therapy. My eyes feel much better with sharper vision. My tracking and eye-hand coordination skills have significantly gotten better. The improved vision and visual skills all help with my other therapies, too! I am so very pleased with my progress in vision therapy and I will miss you all!"
We will miss you too! Thank you for being such a great example of how dedication and positive attitude can give hope to others!
-Robert Feddick

October 10,2018
I was referred to Dr. Gong by a medical professional after experiencing visual symptoms due to being involved in an auto accident. Vision therapy helped me regain control of my eyes and improve my double vision. I have been very pleased with my progress. Although you must put effort into it, I feel vision therapy helped me, and I highly recommend Dr. Gong and the Vision Therapy program.
-C.H.
August 15,2018
I am so very fortunate to have found Dr Gong's office. I was experiencing a vast array of symptoms following a brain injury sustained in a car accident. I was so overwhelmed with the depth and breadth of my injury and from the moment I called to set up an appointment I was reassured, I had found the right place. Their "leading-edge technology" identified my deficiencies and allowed the therapies to be specific for my needs. Extraordinary information is revealed in their assessment process. Alaina conducted my therapies and was masterful, empathic, compassionate and specific. We have been able to track my progress and continually adjust to meet my needs. I cannot say enough. I am so appreciative of Dr Gong and her amazing staff. Truly a God send.
-Darlene, Referred to Dr. Gong by Health South/ Barrow Neurological Institute
August 24, 2017
With doing Vision Therapy with Dr. Gong and her staff, I saw a dramatic improvement on my balance, and at my work, it helped me to do a much better job.  Also, when I read something I am able to better comprehend what I am reading. –Abel Gonzalez
My husband, Abel, was having a lot of difficulty with his balance and vision after some medical problems and after falling and breaking his glasses at his job. We had done vision therapy years ago and it helped him a lot, so we came back to do this again and have seen great success. His balance is much better and he is able to read and write much more effectively. –Kathy Bowersock
-Abel Gonzalez & Kathy Bowersock
April 7, 2017
I suffered from a concussion in September 2015. In January, I started having constant headaches. I was referred to Dr. Gong after my trainer told me I had an eye tracking issue. Dr. Gong's vision therapy has helped me tremendously. I do not have as bad of headaches at school and am able to copy down notes and read more efficiently. I have just completed my first semester of my senior year and I have received straight A's. This is the first time I have been able to accomplish this in high school. I wish I would have been able to start eye therapy sooner. I was referred by Terri from Honor Health and I want her to know that in only 2 units of eye therapy, I have improved tremendously. I would like to thank Terri for the referral to Dr. Gong. You have changed my life!
-Jenna Werning
December 23, 2016
After a concussion, I was struggling with frequent headaches, eye strain, and difficulties seeing clearly while driving. My regular eye doctor, Steven Checroun M.D., referred me to Dr. Gong and I am so amazed at the healing and progress we've seen. I can now read for long periods of time without headaches or strain. I have complete clarity and increased field of vision while driving. My vision is actually better than it was before my concussion- 20/15! Dr. Gong is brilliant, professional and kind-hearted. Her vision therapist is a joy to work with and the entire office staff makes this a great investment.
-Susie Kuhlman
September 13, 2016
I would like everyone to know how awesome Dr. Aleta Gong and her staff have been throughout my treatment and care.
I was in an accident and suffered a head injury resulting in a concussion, double vision, and light sensitivity. Thankfully, my primary eye doctor, Dr. Dawn Heffelfinger, recommended Dr. Aleta Gong for a consultation and assessment. Dr. Gong quickly put together a plan for treatment to include in office vision therapy and instruction for home therapy from the vision therapist. Dr. Gong and I are very pleased with my continued recovery. I have had a great experience at Dr. Gong's office.
– Deneen Smeraldo
August 12, 2016